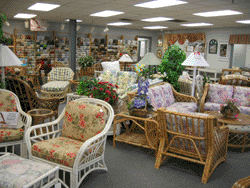 Welcome to Aaxxon's Rattan and Wicker, we are a manufacturer of rattan furniture and largest distributor of rattan and wicker furniture located in Minneapolis and St. Paul, Minnesota. Our products are now in thousands of very satisfied homes. In the 25 years of business, we have not only served the Twin Cities but also much of greater Minnesota and the neighboring states. We have earned a reputation for providing customized rattan and wicker pieces without custom prices while maintaining competitive pricing in our market area.
To assure our customers of high quality we continue to design and manufacture our own unique line of rattan furniture. We now offer 11 different seating groups all crafted using the finest most dense, Malaysian "Manau" rattan. We have made major expansions in the areas of custom designing, (this service is not available at any other retailer): in our custom cushioning, in recovering and in the areas of re-caning, repair and refinishing.
In addition to our own complete line of custom designed rattan products we also offer numerous nationally known lines like Lloyd Flanders, Cebu, Braxton Culler, Benchcraft, South Seas, Palm Springs, Boca Rattan and many more. We are also the Twin Cities Bean Bag center. If you're looking for quality bean bags that will last for years, then you should be talking to us. We also carry a great selection of hammocks for your relaxing pleasure.
Unlike any other retailer, we will not only sell you quality rattan and wicker furniture at an affordable price, but years after you have purchased, we will be here for re-cushioning, repair or refinishing your rattan or wicker furniture, when you need it. That's service, that's confidence, and that's what we are all about.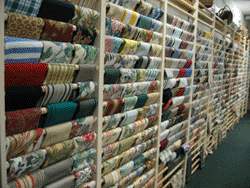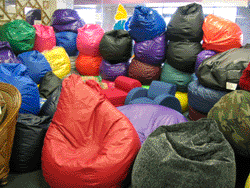 What is Rattan?
Rattan is a climbing palm, remarkable for the great length attained by its stems. It is one of the oldest natural materials in use today for manufacturing rattan and wicker furnishings. While very similar to bamboo, rattan is distinct in that it is solid rather than hollow which makes it ideal for use in making sturdy rattan furniture.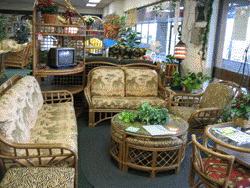 What is Wicker?
Wicker is a weaving process, not a material. One of the materials used in the weaving process today is called rattan core, which comes from the rattan interior. A machine cuts the inside of the rattan stem into pieces small enough in diameter for the weaving process. Due to the nature of this product, splits and discolorations in the rattan stems are to be expected. They even enhance the beauty and uniqueness of these fine handcrafted products.
How is the Furniture Constructed?
We import only the finest Malaysian Manua rattan for our hand crafted rattan furniture line. The rattan is then placed in a steam box which is necessary for bending the rattan poles and making it more pliable. Wooden and metal templates are constructed for producing specific shapes. When the rattan is steaming hot, it is bent to fit into the templates, additional heat is provided by torch to make every piece fit perfectly. Once in the template we cool it off by pouring cold water over the rattan poles. Once cooled, the rattan pole will stay in the templates shape. The shaped poles are then assembled with straight poles that are contoured to fit joints evenly. The joints where two pieces meet are wrapped with peel or wicker strands giving it more elegance and adding to the durability of the rattan furniture.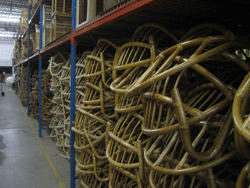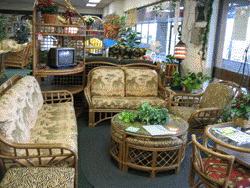 How is the Furniture Finished?
Once the furniture is completed, combinations of latex and alcohol base stains are used to finish the rattan or wicker furniture. Painstaking detail is used to prepare and sand each piece for a clean and smooth surface. Although each piece of rattan absorbs the stain differently making each piece unique and beautiful, all the pieces will come together creating a masterpiece for your home.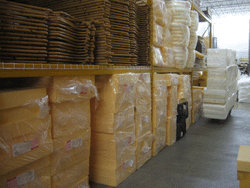 What About Cushions?
We only use premium high density polyurethane foam wrapped with layered Dacron fiber. We can always make your cushions firmer or softer to accommodate your needs. We stock over 800 fabrics at all times and also offer hundreds more from books and fabric sheets.